This practice sheet contains a design which consists of a paisley with half opened stomach. On the open side of the paisley there is a half flower of kisses petals without anything to guide in center. There are some pollens on the inner side of the petals of flower. There is an elongated leaf in the middle where paisley and petals are joining one another. There are some circles with dot in center on the closed part of the stomach of paisley.




How to Make This Design Easily: – 
For making this design easily first you should draw the paisley with opened stomach. Then draw the flower's petals and pollens. Then draw the elongated leaf. Last step is to draw circles with dot in center and this ends the henna practice sheet design.
The design of this practice sheet is shown below:-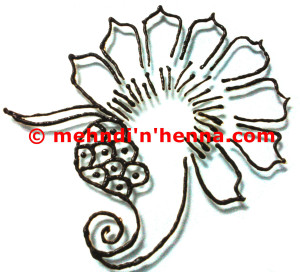 Download Practice Sheet of This Design