This practice sheet contains a design which consists of only kisses petals. Like the previous practice sheet, the challenge here is to make the petals in a circle without anything in center to guide. Actually it's a flower of kisses but the twist is to make it without circle in center. As previously said the difficulty level is now going higher to make you more skilled.




How to Make This Design Easily: –
For making this design easily the main thing you need is full concentration towards your design. If you will give full attention to the design and then draw it with your 100% mind in the henna design you will definitely made all the six (6) kisses petals in a circle in your first attempt. Don't be upset if you didn't achieve it in first try, try again and again and with practice you will definitely made it. Good luck.
The design of this practice sheet is shown below:-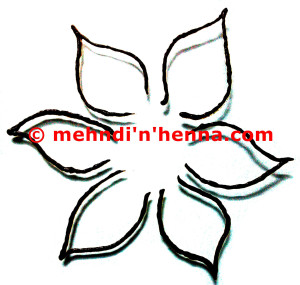 Download Practice Sheet of This Design