This practice sheet contains a design which consists of a paisley made in the shape of a leaf. The one side of the paisley is filled with humps with dots in center and the remaining part is filled with wavy lines. There is a pug tail attached with the paisley. The pug tail is surrounded with dots and humps. There are also some open hearts on the head of the paisley.
How to Make This Design Easily: – 
For making this design easily first you should draw the paisley and then do the filling in the paisley. Then draw the attached pug tail and then the dots and the humps surrounding the pug tail. The final step is to draw the open hearts on the head of paisley and that's it your design is completed. So simple and easy.




The design of this practice sheet is shown below:-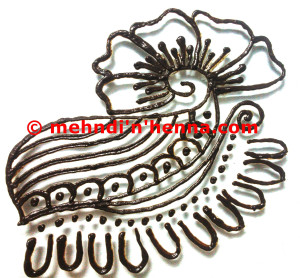 Download Practice Sheet of This Design