This practice sheet contains a design which consists of two (2) paisleys filled with fish bones. The head of the paisleys are joined together. There is a leaf and a half flower on the meeting heads of the paisleys. The stomachs of the paisleys are attached with three thick lines. The top part of the design is outlined with dots.
How to Make This Design Easily: –           
For making this design easily first you should draw the paisleys. Then fill them with fish bones. Next step is to draw the flower and then draw the leaf. Then attach the stomachs of the paisleys with three thick lines. Last step is to outline the top part of the design.
The design of this practice sheet is shown below:-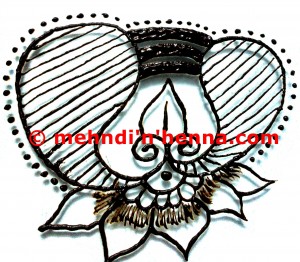 Download Practice Sheet of This Design